Corded Jig Saw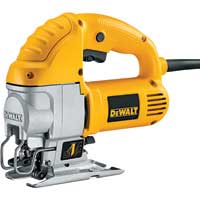 Dewalt DW317K Heavy-Duty Compact Jig Saw Kit
Corded saws are available as single and variable speed models, some will include a light to aid in more accurate cuts. Variable speeds will range from 0 to 3000 strokes per minute. Many saws also offer orbital actions to allow faster more agressive cutting that can be set according to the material being cut.
Cordless Jig Saw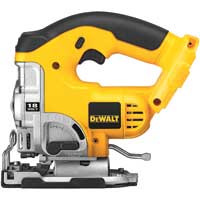 Dewalt DC330K Heavy-Duty XRP™ 18V Cordless Jig Saw Kit with Keyless Blade Change
Cordless jig saws have all the features of corded models with the added advantage of not being limited to an available power outlet.18 volt models provide adequate power and long battery life, most brands use a common battery that works on their complete line of tools.
Jig Saw Blades
There are three basic styles of shanks that fasten the blade to the saw.
| | |
| --- | --- |
| | The T-shank is the most common style used in the newer models, it allows for keyless clamping and is held more securily than the older styles. |
| | The older standard was known as the U-shank, they were locked in the clamp with a set screw. |
| | Makita used this type of shank in their older models, it is becoming increasingly hard to find this type. |
Jig Saw Accessories
Rockler Speed-Cope Crown Molding Jig
Cut crown and base molding the easy way with this innovative jig. Speed-Cope™ lets you make tricky cope cuts with ease, for perfect molding faster. It adjusts to handle most molding up to 7-1/4'' wide, 45° and 90° inside miters, flat miters, and base, chair, and panel moldings. Includes free do-it-yourself DVD.
EasyCoper for Crown Molding
Take the guesswork out of coping crown molding to create perfect inside corners! Allows you to quickly and easily cope crown molding with a power jig saw instead of a coping saw, reducing wrist, hand and arm stress.
Jig Saw Safety
NOTE: Never use a saw or any power tool while under the influence of drugs or alcohol.
Read your owners manual for additional tips and safety features.
1. Wear safety goggles.
2. Tie back loose hair, tuck in long beards, and remove dangling jewelry or watches.
3. Make sure your sleeves are tight at your wrist, wearing long pants is recommended while wood working.
4. Use clamps to secure the cutting material to the work surface.
5. Always unplug and turn off the saw when you are changing or tightening the blade. Select the correct blade for each type of material you are cutting. Make sure your saw cutting speed is set for the type of material you are cutting, slower for metal, faster for wood, see manual for details.
6. Install the blade with the teeth facing the front of the saw.
7. It is best to drill a 3/8 inch pilot hole at the top edge of your circle to properly position your jig saw for cutting. Drill the hole where you want to start cutting and place the blade in the hole.
8. Never start the saw while the blade is touching the wood.
9. Do not start cutting until the blade is running at the proper speed.
10. Check under the cutting surface to make sure you have enough clearance for the blade to go up and down without hitting any thing.
11. Never reach in front of the saw or over the saw while the saw is operating.