Speaker Stand
Cut the components shown below from 3/4" material, the dimensions given are for the 9" wide speaker shown in the photo, the height and size of the top and base can be altered to fit your speakers.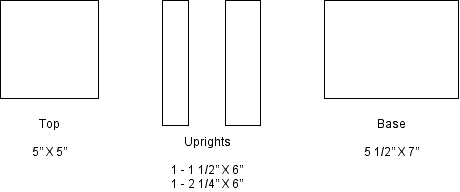 Sand the surfaces and edges of all the pieces, then fasten them together with glue and nails or screws. Start with the two upright pieces.

Then fasten upright to base and top to upright.
Finish to match speaker enclosures or stereo cabinet, attach felt pad to each bottom corner of base.