Many of us have seen a print that we just had to have only to find that the cost for professional framing would be more than triple the price of the print. It is possible to make your own frames for a fraction of the price, and have an impressive end result.
Attractive and unique picture frames can be made with basic tools, for some only a saw and a square are needed. It is much easier to cut mitered corners with a miter box or trimmer, if the fit is not exact the angles can be fine tuned by sanding them. Often a cause of poor fitting joints is that the two opposite side pieces are not exactly the same length. A disk sander is a very handy tool to have to adjust the angles to fit, there are plans to build one here.
Miterless Frame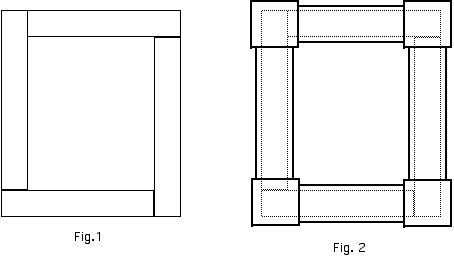 Make a base using 3/8" thick material as shown in fig.1, the inside dimensions should be standard photo sizes, 5 X 7, 8 X 10, 11 X 14, etc. For the top use strips 1/2" wider than base, use thicker and wider material for the corner blocks. Glue top pieces to the base as shown in Fig 2.
Rather than using corner blocks, cut strips 3/8" wider and glue on top of base lapping the joints as shown in Fig. 3.

Use a good brand of carpenter glue, Titebond is one of the best. It has been shown that a proper fitting glue joint will be stronger than the wood it is bonding so no other fasteners such as nails or screws are necessary.
Traditional Molding Profiles
Make Your Own Profiles
Even if you don't have a router or a shaper you can use stock pieces of molding to build your own profiles.

Cutting Miters
Precise cuts are best made using a miter saw or trimmer, use a combination square to mark the cut position, you will have to extend the line from the inside of the rabbet to the outside of the frame.
For additional strength on larger frames use a spline to reinforce the joint.

There is a myth about compound angles being acceptable as long as the two angles add up to 90 degrees, you will get a square corner but it will look like this: