A bearing is a device that is used to enable rotational or linear movement, while reducing friction and handling stress. Like wheels, bearings literally enable devices to roll, which reduces the friction between the surfaces.
Bearings may be mounted in a casting such as the ends of an electric motor, or in a separate casting such as a pillow block or plate which is fastened to a machine to support a rotating shaft. They may also be fastened in a hub rotating on a fixed shaft such as an idler pulley to tighten a belt.
There will come a time when bearings have to be replaced, often this is a pretty straight forward procedure that can easily be done by the home handyman.
On a newer machine a replacement may be available from the dealer, this is a sure way of getting the proper part, but not always the least expensive route to take.
Nearly all machines are built by the manufacturer using standard size bearings, so replacements can be obtained from a bearing supply house. Bearings will have a code either etched or stamped on the side of them, this code describes the bearings characteristics so the replacement will be an exact match to the original.

If you can't find a number on the bearing for some reason, the bearing house should be able to measure the original bearing and work from that to figure out the bearing you require.
You will find that there are some really cheap brands and some very expensive, you shouldn't settle for the cheapest, but you don't need the most expensive either, just get a good quality one.
How to read the numbers on a bearing
Lets use 6201RS for example.
The bearing number does not start with an R so we know it is a metric size.
The 6 stands for the type of bearing, this is a deep groove ball bearing.
The 2 is the series of the bearing, this one is a light series.
01 is the inside diameter or bore of the bearing, 12 mm.
RS stands for a single sealed bearing.
How do we know this, well there are charts to determine the valve of each of the numbers:
Not all bearings are equal
The clearance between the ball or roller and the outer race will vary depending on the use of the bearing so if you get a new bearing that feels loose it may have been manufactured that way for a reason. This is to take into account thermal expansion or contraction of the components surrounding the bearing.
SKF bearing are marked by the following suffixes.
C2 - Radial internal clearance less than normal, marked C2 or 0.
CN - Normal clearance, not marked.
C3 - Clearance greater than normal, marked C3 or 000.
C4 - greater tha C3, marked 0000 or C4.
Difference between each rating is aprox. 0.020mm.
To remove a bearing
The first order of business is usually to remove the shaft, check for any C-clips or snap rings that may be holding the shaft in position. Check the direction it has to move, sometimes one end may have a larger bearing than the other.
Press or drive the shaft out, if you are driving the shaft use a brass drift so as not to damage the end of the shaft.
Once the shaft is removed you can usually just drive the old bearing out, try to tap on the outside race but if you are replacing it that is not terribly important.
If the bearing is in a blind hole and you can't access it from the other side you will need a special puller.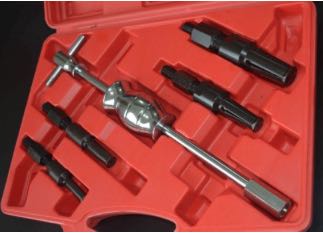 Available from Amazon.com
To support a bearing in a press, or when clearances are limited a bearing splitter is used.
Types of bearings
Ball Bearings
Ball bearings are the most common, they can handle both radial and thrust loads, but can handle only a small amount of weight. Extra weight can be handled using double row bearings. They come in both open and sheilded styles.
Ball Thrust Bearings
Ball thrust bearings are designed to handle low speed, low weight applications such as bar stools and lazy susans.
Roller Bearings
Roller bearings are designed to carry heavy loads, the rollers have a much greater surface contact area than a ball, however they can only handle radial loads. If space is limited needle bearings will be used. These bearing are also designed as clutch bearings, they will turn freely in one direction but grip the shaft in the other direction.
Tapered Roller Bearings
Tapered roller bearings, commonly refered to as Timken Bearings, are built to withstand large radial and thrust loads. Car wheel bearings and many lathe spindles are an example.