When I look over the new scroll saws memories always come back to me of the first one that I had. My father made it for me, he built it around an old Briggs and Straton engine, took the head off, drilled a hole in the piston and put a stubby shaft with a slot on it to hold the blade. The table was a disk from a grain seed drill, the top spring to tension the blade was from an old mattress. I got hours of pleasure from this tool, it was what got me started in woodworking.

In those days I knew nothing of variable speeds, sawdust blowers, hold downs, C - arms, spiral or reverse blades.

Scroll sawing is an easy hobby to get started in, the saw runs quiet enough so as not to disturb the neighbours, it does not require a large investment in equipment nor require a large work space. Best of all it is a relatively safe hobby, injuries may happen but are minor compared to what can happen with other woodworking equipment.

Choose a saw that feels comfortable to you, many hours will be spent in front of it. The table should be large enough to support the material both in front of the blade and behind it, the controls should be convient to reach and easy to set. The blower should be powerful enough to remove sawdust even when set far enough above the material so you can clearly see the cutting lines. The saw should run smoothly, if it has excess vibration your hands will become fatigued very quickly.
Blades
Scroll Blades (Shown on the left) are recommended for cutting thicker and harder material.

Spiral Blades (Shown 2nd from the left) blades are twisted so teeth point outward in every direction. A 360° capacity allows cutting in any direction without turning your work.

Reverse Blades (Shown 2nd from right) Teeth are pointed in both directions to give splinter free cutting on the top and bottom.
Accessories
| | |
| --- | --- |
| Scroll Saw Sander | Blade Lube Stick |
Links
Books with Tips and Techniques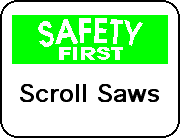 Wear safety glasses, chips or a broken blade can fly up toward you.

Use the hold-down that is supplied with the saw, it is tempting to remove it but it is there for a reason.

Don't wear clothing with loose fitting cuffs or baggy sleeves.

If you have long hair tie it back in a pony tail.

Wear a dust mask or if you are doing a lot of work consider a dust collection system.

Keep the floor clean, have a can beside the saw that you can toss scraps into rather than onto the floor.

Never guide the material with your fingers in the path of the blade, always keep them to the side.

Use hearing protection, especially during long noisy sessions.

Let the saw do the work, don't force the material when working with thicker stock.

Switch machine off, don't leave it running a unattended.